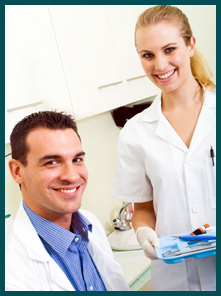 Specializing in Temporary & Permanent Job Placement
It's easy to join our team of professionals. We at Dental Staffing Solutions enable you to interview only for the jobs that match your experience level and skill set.

Working Interviews provide an opportunity for both the applicant and employer to work together in determining the proper fit for the position. It is our goal to place you in a satisfying dental career.
No Cost To You!
Dental Applicants
Temporary Positions

:

We currently have a variety of temporary positions available in Central Florida. You'll appreciate the flexibility and temporary assignments.
Work the days you want.

Find the Balance between work & family.

Learn new skills and experience new work environments.

Earn extra money on your days off.
Permanent Positions

:

Pre-screening of prospective employers as per your criteria for location, hours, salary, benefits, office personality, etc.
Save time applying for jobs through classified ads. Let us do the legwork for you!




You are able to work as a temp while looking for the right job, earn extra money without pressure to take the first job offered.




You often find the "right position" while working as a temporary.
All fees are paid by the employer
All interviews are confidential
Our Philosophy
We understand the professional qualifications required by a busy dental office and we strive to make a good match.
Our on-call staff are ready to help you meet your temporary or permanent staffing needs when-ever necessary.

(877) 303-8233 Toll Free(727) 547-8233 Pinellas
(813) 877-8233 Hillsborough

Contact Us